As an award winning photographer and a world citizen with the ability to create a genuine connection with my clients as well as my subjects, my work is my passion and my passion is telling stories about the world we live in.

Raised in Brazil and Europe and traveling since childhood, I became a photographer so that I could share the way I see the world; using my camera as a communication tool, I allow my heart, my eye and my experience to guide me.
Trained as a translator, the ability to speak six languages opens doors, gains people's trust and allows me to get below the surface.
My combination of global insight and multi-cultural communication skills allows me to bring a special level of integrity and intelligence to projects.
For those clients looking to reveal the humanity within their organization, create a better understanding of their brands or simply document and tell a good story, I work as a partner to bring your vision to life.
I'm presently located in Puerto Vallarta, Mexico.
---
TESTIMONIALS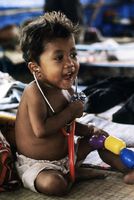 "I recently hired Viviane for the first time. She did a phenomenal job of capturing very touching moments and the essence of the personal relationships in her photographs. I was very impressed with her talent and will definitely hire her again."
- Suzanne Augustyn, The Commonwealth Fund" - July 2013
"I had the privilege of working with Viviane on a very challenging project for one of our largest clients, Pfizer. We were creating a web-based patient education program and needed to capture the relationship between doctors and their patients in a wide variety of scenarios. Viviane not only captured what we were looking for, but gave us a lot more than we expected. She was very flexible and gave us creative options for use in other media. She far exceeded the clients expectations and won their trust from the very first production meeting. We won the Horizon Award, for excellence in interactive media, for this project."
- Joan Daidone, former Executive Creative Director, Merkley + Partners
"I have been impressed with her exceptional empathy for the subjects she covers. And also of her outstanding professionalism."
- Hirofumi Ando, Deputy Executive Director, United Nations Population Fund
"Viviane Moos's photography provides an x-ray of society's soul."
-Peter Mann, international coordinator World Hunger/Harry Chapin media awards
---
AWARDS
Pfizer, Polygram Records/Phillips, Smithsonian Magazine, Time Magazine,

The United Nations Population Fund, UNICEF, Catholic Relief Service (CRS)

Der Spiegel, Stern Magazine, Geo Magazine, Die Zeit Magazine

Focus Magazine, SontagsBlick, Das Magazine

Paris Match, Le Point, Le Monde, French Photo

The Daily Telegraph Magazine, The Independent Magazine, Minx, Marie Claire